I am in a game with Bob Hughes and in discussing the locations for the three VPs on the northern side of the game map we both agree that reducing those (or removing them) would be the best move. Currently each is 500 VPs. Bob agreed with my proposal to reduce them to 250 VPs ea.

One is on Oak Ridge, a feature that really has no bearing on the success or failure of the CSA player's efforts. The others are to the east and south of that and really the Union player has zip, zero chance of holding any of those. The hexes in question are 35, 19; 43, 9; 58, 12.

The success of the scenario hinges on whether the CSA can take and hold part of Cemetery Ridge. Always has been. For the Union player to ever hold Oak Ridge is a pipe dream.

Perhaps a change to where the newer variable VP location rule is used where the value would be decreased would work. Then its the number of turns that the CSA player holds it that matters.

But those three locations need revision. Bob said that this scenario is hardly ever won by the Union player. Those three VP locations get taken regardless of what the Union does and unless the Victory Conditions are revised to where they are higher, its not really balanced.
_________________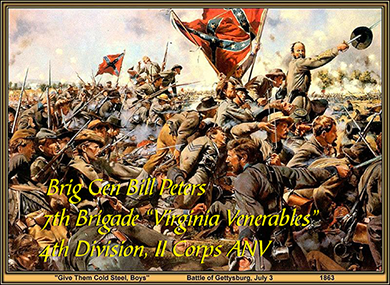 Optional Rules I Use in WDS ACW Games:
(by column from left to right)
Column 1: All ON except for Man. Def. Fire; Column 2: All ON except for Alt Fixed Unit Rel.; Column 3: All ON except for Art.Capt. & Prop.Op.Fire