Österreichisches Imperiales Armeekorps (Imperial Austrian Army Corps) Promotion
On behalf of
Franz I., Kaiser von Österreich
, please join me in celebrating the awarding of the below Awards to the following Imperial Austrian Army Corps Officer:
Military Order of Maria Theresa Commander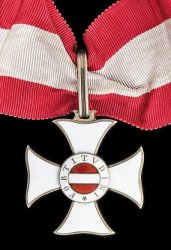 Feldmarschall Jim Erzherzog Pfluecke von Teschen
Oberbefehlshaber des Österreichischen Imperialen Armeekorps (Commander in Chief of the Imperial Austrian Army Corps)
Kommandeur der Austro-Prussian-Swedish Armee
This awarding is for Jim's 65th Austrian Victory!
---
As Issued at Vienna on the 16th day of August of the current year,
Let us celebrate with drink, food and music! Schönfeld-Marsch! -
https://www.youtube.com/watch?v=wVUXTzDvUks
Congrats Jim!!


_________________
Generalfeldmarschall Scott Kronprinz "Vorwärts" Ludwig von Preußen
Kommandeur des Königlich-Preußischen Armee-Korps
Chief of Staff (CoS) of the Allied Coalition
Allied Coalition Webmaster & Club Website Support