23rd Light Dragoons Attacking French Cuirassiers
by Keith Rocco
Medals, Awards & Orders to Anglo-Allied Army (AAA) Officers
On behalf of the
Army Commander (AC) Field Marshal Sir "Lucky" Jim Hall, 1st Duke of York & Albany K.G.
and
Army Chief of Staff (CoS) Field Marshal Sir Andrew Moss, 1st Duke of Wellington K.T.
, please join me in celebrating the awarding of the below Medals, Awards & Orders to the following Anglo-Allied Army (AAA) Officer:
Cruz de Distinción de Toulouse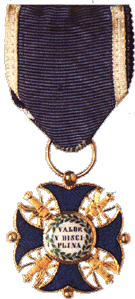 Major General Sir Michael Davies, 1st Viscount of Glamorgan K.T.
23rd Regiment of Light Dragoons
3rd British Cavalry Brigade
Cavalry Corps
---
I have ordered the playing of the "The Welshman (Quick March)" in honor of this fine officer -
https://www.youtube.com/watch?v=qHBufDcPQcg
Given under Hand and Seal, this 13th day of March of the current year at Brussels
Congrats Mike & keep up the gaming!!


http://www.wargame.ch/wc/nwc/Army_Webpa ... zette.html
_________________
Generalfeldmarschall Scott Kronprinz "Vorwärts" Ludwig von Preußen
Kommandeur des Königlich-Preußischen Armee-Korps
Chief of Staff (CoS) of the Allied Coalition
Allied Coalition Webmaster & Club Website Support