Battle of Waterlo
by Thomas Jones Barker
Medals, Awards & Orders to Anglo-Allied Army (AAA) Officers
On behalf of the
Army Commander (AC) Field Marshal Sir "Lucky" Jim Hall, 1st Duke of York & Albany K.G.
and
Army Chief of Staff (CoS) Field Marshal Sir Andrew Moss, 1st Duke of Wellington K.T.
, please join me in celebrating the awarding of the below Medals, Awards & Orders to the following Anglo-Allied Army (AAA) Officer:
Braunschweigische Militärverdienstmedaille 1815 (Brunswick Military Merit Medal)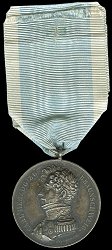 2nd Lieutenant Bret Pearce
52nd (Oxfordshire) Regiment of Foot (Light Infantry)
3rd British Brigade
2nd Division
II (Anglo-German) Corps
Awarded for First Victory Against a French Opponent
---
I have ordered the playing of the "Golden Spurs" in honor of this fine officer -
https://www.youtube.com/watch?v=Urnwzmcd62s
Given under Hand and Seal, this 5th day of February of the current year at Brussels,
Congrats Bret & keep up the gaming!!


http://www.wargame.ch/wc/nwc/Army_Webpa ... zette.html