- Dedicated to Napoleonic Wargaming in a Fun and Casual Place -

About the Napoleonic Wargame Club (NWC)
The Napoleonic Wargame Club (NWC) is the oldest online Napoleonic wargaming organization. It was founded in 1998 for the enjoyment of playing Napoleonic computer games with people from all over the world. The Club provides a friendly atmosphere where members of all skill levels are welcome, from the beginner/novice to the expert player. The Club is more than just a ladder organization or a forum, it is an environment where members become a part of something larger.
We are a historical based Club that plays games via PBEM (Play-By-Email), TCP/IP & Real Time Play. For a list of the games we play, Click Here
The Club is divided into two parts, the games you play with other members and the Club related parts. The Club is designed in an historical layout. It is meant to add an extra element of fun to the Club, but is also a way of building Esprit de Corps and giving you the feeling of being a part of something more than just a ladder organization or forum. It also allows a way for you to participate & and enjoy the Napoleonic Era, that the Club portrays.
There are two sides the French Army (Napoleon's La Grande Armée) & the Allied Coalition, which has many nations in it. You pick a side to join. You then become a leader of an infantry, cavalry or artillery unit in the larger army. A beginning rank is assigned to you. The Discussion Board has a section for finding opponents to play games with. You can play anyone on any side of the Club and also play any side of a game. You register a new game and then after it is over, the game results in our Department of Records (DoR) Automated Registration System. Points are awarded you. Those points are used to award you promotions, awards, orders & medals, as well as nobility titles and possible entry into your army's elite Guard unit.
The games you play will help your career as an officer in the Club, but the historical part of the Club has no impact on the games you play. You are not required to play only your side in a game. You can play anyone on any side of the Club and also play any side of a game.
The Club has many great members. A lot of them are more than willing to share strategies, advice & tips about the games. The "Rhine Tavern", the main section of the Club Discussion Board, is where members gather to have fun, meet each other, talk and share some stories over a "virtual" drink or two. There is also often discussion about the Napoleonic period in general and everything related to it. The members are always willing to talk about the period, but a friendly environment & positive discussion is expected of all. Rude, antagonistic behavior & trolling will not be tolerated. Please be respectful of everyone, as there are many members from all over the world, which is what makes the NWC a great place to be a part of.
The NWC has many excellent volunteers called the Club Staff and each army has many senior leaders to help you with any questions or concerns you might have. A training game is optional, but might be helpful for someone new to the games, as it'll teach the concepts of the game. There are also many great resources located on various Club pages and websites related to the games themselves.
We are a really laid back Club and are focused on gaming, making sure you have fun & have folks to play games with. We do some Tournaments too as time allows. There are mailings that go out to members once every couple months depending on what we have going on. There will also be unique things like a Club Newsletter, that members can contribute to, artists & author interviews, historical discussions on the forums. The Club Staff always has new ideas they are working on and we invite input & questions from the members. You can explore our site and see for yourself. The Club Staff likes to keep it fun & simple.
Most wargamers are casual gamers and we get that! We don't have routine musters or other policies that detract away from the games & the fun you will have. We are mostly all adults and we treat our members as such. You play games as you have time, but if real life gets in the way for a while, that is ok too. We understand that, our lives are busy too. Just make sure your opponents are aware of it as well. It is only polite to do so. We strive to ensure you have a good experience. So members are welcome to game when they have time and all we ask is if we happen to send you an email to see how you're doing, just let us know. We want you to have fun & not feel pressured into anything or have unneeded paperwork to do just to stay as a member. Simple & easy is our philosophy! It sets us apart, experience wise, from the others.
We really hope that the NWC is a place that interests you and that you want to be a part of. We looking forward to joining our ranks!!
To Join the French Army (Napoleon's La Grande Armée): Click Here
To Join one of the Allied Coalition Armies: Click Here
Click Here to Visit the Main Club Site
Click Here to Go to the Club Discussion Forum
Click Here to Visit the La Grande Armée Quartier Général (French Army Website)
Click Here to Go to the Allied Coalition Website and Armies

The NWC plays many games made by many publishers. The games we play are as follows:
Wargame Design Studio (WDS) Napoleonic Series
[Formerly John Tiller Software (JTS)]
Wargame Design Studio (WDS) Musket and Pike Series: Seven Years War
[Formerly John Tiller Software (JTS)]
~ AGEOD Wars of Napoleon ~ AGEOD Napoleon's Campaign ~ Matrix Games John Tiller's Battleground Napoleonic Series ~
~ Matrix Games Crown of Glory: Emperor's Edition ~ Slitherine Games Commander: Napoleon at War ~
~ AGEOD Rise of Prussia ~ AGEOD Rise of Prussia (Gold Edition) ~
HistWar Les Grognards & Napoleon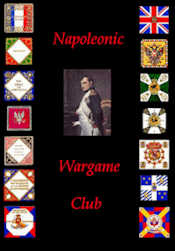 © 1998-present Napoleonic Wargame Club (NWC)
Last Updated: November 10, 2022 8:41 PM