- Dedicated to Napoleonic Wargaming in a Fun and Casual Place -

Department of Records (DoR) Annual Reports
The Department of Records (DoR) Reports are Annual Reports published by the Club of some of the data & statistics available inside our Department of Records (DoR) Automated Game Registartion System. They are just added informaton for those who are intersted and it helps track trends & changes in the Club and what the members play over time.
The most useful parts of the reports for the average visitor & member are probably the "Popular Games & Scenarios" section.
The "Top Guns" section can also be interesting too, as it is the section that shows the various members of each side with the most Victory Points, which are points given out when you win a game. Also, the "Top Marchers" section is the list how many turns or minutes have been played by various members for that year.
There are other sections too.
Below are the current Department of Records (DoR) Annual Reports:
2017 Annual Report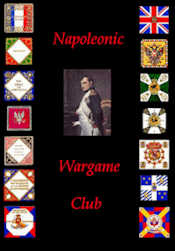 © 1998-present Napoleonic Wargame Club (NWC)
Last Updated: January 14, 2023 12:21 PM