Tribute to Col. John R. Elting
---
Many a commander has looked back on a battle and wondered what might have happened had he done things a bit differently. For the last "Grapeshot" article I had the choice of either interviewing David Chandler or John Elting. For various reasons I decided to go with Dr. Chandler first and then interview Col. Elting for this edition. Although I was extremely fortunate to get a remarkable conversation with Dr. Chandler, fate decreed I was not to have the same opportunity to chat with the Colonel as that esteemed gentleman passed away while in his study, at his home, on May 25th. The threads of life weave mysterious cloth.

I like to use "Grapeshot" to bring our heroes and our historical guides a little closer to the Club members. We devour their books, endlessly play their games and debate their points of view. This edition of "Grapeshot" is dedicated as a tribute to one of those extraordinary persons whom we admire and respect Colonel John Robert Elting. Sadly, for the majority of us, this will be as close as we come to a man who was generous and outgoing in his studies, and dedicated to his country and to his students, both professional and amateur. He is a man I wish had had the good fortune to talk to.

The biography below is told in his own words. It is the result of a request for a biography from

Greenhill Books on the eve of re-publishing "A Military History and Atlas of the Napoleonic Wars". Reading this I was struck by how similar his style was in writing about himself and in writing about a historical account. His humour and wry wit shine through as they did in his book "Amateurs to Arms!". I've only just recently finished that book and I chuckled several times at places within it and did the same in the biography. I could think of no better way to present his life than by his own account.

[A more detailed biography may be found here. It was contributed by Col. R. Doughty of the U.S. Miltary Academy at West Point on behalf of the History Department.]
---
"My first commission had been from the Reserve Officer Training Corps at Stanford University in 1932. We were taught military equitation and the functioning of horse-drawn field artillery, equipped with the famous Model 1897 'French 75'. (Much later I would realise that this had had historical value; like Napoleon's gunners, I had learned something about what horses could do and the problems of caring for them.)
In those informal days I could combine college with summer duty in Company H (machine guns), 163rd Infantry Regiment, Montana National Guard, and see the Army from the buck private's worm's eye point of view. Afterward came the years of duty as company, railhead, and construction officer with the Civilian Conservation Corps (Old Army shavetails 'knew nothing and did everything') and a civilian interlude as a high school biology teacher. In 1940, President Roosevelt having evinced an urgent need of my assistance, I returned to active duty as an ROTC instructor at Oregon State College. Then there was the 71st Armored Field Artillery Battalion; the Tactics Department of the Armored School at Fort Knox; Combat Command B, 8th Armored Division (Rhineland, Ardennes, Alsace, and Central Europe campaigns); 24th Field Artillery Battalion, Philippine Scouts; and another short civilian session. With the Cold War beginning to hot up in 1948, I was recalled and assigned to the Armed Forces Information school, which was not my idea of soldiering - but, much to my surprise, my service there earned me the nomination to the Military Academy.
Having been interested since boyhood in military history, especially that of the Napoleonic Wars, I had read extensively, and so was better prepared than the average new instructor. The West Point Library was a treasury of original material, mostly accumulated during the previous century. I really looted it - and learned from my continuing self-eduction that I knew less than I thought I did, and that some of the things I thought I knew were not so.
In 1954 my turn for overseas duty came up. I hoped for - finally - the command of a tank battalion, but found myself in the J-2 (Intelligence) Division of the Far East Command.
That, undoubtedly, was better, training me in high-level staff planning and function. My wife Ann and I enjoyed Japan, even if the later part of my tour was spent in a locked 'Action Center' dealing with information just below the 'Shoot bearer, burn before reading' category.
When the Far East Command was deactivated in 1957, Colonel Esposito reclaimed me. After the success of the West Point Atlas of American Wars, with its novel integrated map-and-text format, I suggested the development of a similar Napoleonic text. The basic research and writing were my responsibility; Colonel Esposito edited my work. It was a demanding task; more-than-patient Ann sometimes murmured about being the last widow of the Napoleonic Wars.
My last active service, 1965-8, was as the G-2 of the Washington Military District. Those were the happy days of Vietnam War protests and the 'siege' of the Pentagon, requiring the conversion of the District from a 'place where old elephants go to die' to a heads-up tactical headquarters. As its '2' I had ample opportunity to study the underside of democracy in action and to ponder the ancient proverb that 'God looks after small children, idots, drunken sailors, and the United States of America'.
Thereafter, in 1968 I 'hung up my sword and shield' here beside the Hudson River, and have continued to study war."
---
Col. Elting was a prolific writer and historian. He wrote about different eras of warfare, but undoubtably his favorite topic was Napoleon and his battles. Through thorough research, masterful writing and his love of extending knowledge to others, Col. Elting has become one of the most admired authors and historians of the Napoleonic era.

His love of military history; researching it, teaching it, making it available to all is reflected in the fact that he has been asked to contribute introductions to many books by other authors. The U.S. Military Academy at West Point, where he had been an instructor, has created a "Col. John R. Elting Award for History" to be awarded to its cadets.

One of his last major events was the attendance of the

Napoleonic Fair in February of this year. Here he presented his article "What if the French had rallied after Waterloo?" from the newly published work "The Napoleon Options" a book that discusses "what-if" articles from ten different contributors. Below is an incomplete list of Col. Eltings contributions to the world of military history. The first two are part of my own library and are reviewed elsewhere in this newsletter.
"A Military History and Atlas of the Napoleonic Wars"
With Brigadier General Vincent Esposito

"Amateurs to Arms! A Military History of the War of 1812"
An excellent view of the entire war

"Swords Around the Throne"
The structure and function of Napoleon's army

"Napoleonic Uniforms Volumes I, II, III and IV"
"Military Uniforms in America : Years of Growth, 1796-1851"
"Dictionary of Soldier Talk"
"Battles of Scandinavia (World War II Series)"
I've asked a number of Col. Elting's peers to exchange some their thoughts with us. The responses I received in time for the deadline are below. With the assistance of our Editor, Ken Jones, I will update this edition as other contributions are made. Club members are also invited to send in their comments.
It was a great loss. John Elting was a good friend who generously gave me his time and knowledge. He remained fit and active until the end, and I was pleased to be able to spend time with him at this year's Napoleonic Fair. He will be missed!
Peter Hofschröer
---
I had the pleasure of knowing Colonel Elting and corresponding with him for several years. The quality of his scholarship is well known, but only a few of his many avid readers have had the pleasure of getting to know him personally and what a true prince of a man that he was. He was among the most gracious men I've ever known. I don't think he knew anyone but a friend. When you met him and talked with him, he was an encyclopedia of knowledge and stories. They never seemed to end and I could listen to him for hours. I had the great fortune of spending a week with him and Christopher Duffy touring the 1799 Souvorov battlefields in Italy and Switzerland some 5 years ago. That was an experience that I will always treasure.
I mentioned that we were in correspondance for many years. In that correspondance he was constantly filled with insights and offers/willingness to help. I had the pleasure of borrowing a few obscure books from him to support a couple of research projects. In addition, and immediately before he died, he sent me two WWII field manuals as a gift. I was shocked to learn that he had been one of the three authors writing the tactical manuals for the Armored Battalion and the Tank Company (the manuals he'd sent me). They came with a cryptic and very brief note on a "post-it note" with a comment about an emergency and heading for the hospital. That was about two weeks before I learned he had died.
He was a man of many talents and innumerable friends. My greatest regreat is that I did not know him longer or better.
Dr. George F. Nafziger
---
Those who had the opportunity to meet and work with Colonel Elting were fortunate. He had an enthusiasm for life and a passion for military history which affected all who came into his presence. His easy-going, congenial nature made even the amateur historian and junior officer feel comfortable. His friendly attitude was also apparent in the Department of History

=s annual Dining-In, which Colonel Elting always attended and in which he always reveled in entertaining the mess with his stories and comments.

Shortly before his death on 24 May 2000, Colonel Elting penned a note to his friend and fellow Napoleonic scholar, Dr. Donald Horward, in which he wrote:
Dusk.... I'm in the Night Hawk Guard's square at La Belle Alliance [Waterloo], fumbling for one last cartridge. Too many heart failures over last few months, and nothing much left for the next one.... Been great knowing you.
He will continue to be remembered by members of the History Department at West Point, which annually bestows the Colonel John R. Elting Award for Excellence in Military Art on the underclass cadet who achieves the highest overall average in the two semester History of the Military Art course taught annually at West Point. We will miss him.
Colonel R. Doughty
on behalf of the History Department, West Point
---
Memories of "Colonel John" Elting
Like most students of Napoleonic period history, I knew of Colonel John Elting and his work long before I had my first professional contact with him. As I recall, that contact came about in the late 1980s after John sent me a letter praising a series of articles on American infantry doctrine from 1776 to the 1830s that I had published in the Military Historian. This letter began a lively correspondence that lasted up until the day of his death -- in fact I spoke to "Colonel John" (as I always called him) on the phone less than a week before he passed away.
Over a period of some fourteen years, Colonel John and I exchanged hundreds of letters in which we discussed topics ranging from tactics in the musket period to current political events (and Colonel John was never a fan of politicians, particularly the modern breed). My letters were generally longer as I early mastered the computer; Colonel John's letters were handwritten, short and (as was everything to do with the man) right to the point. John Elting was a knowledgeable, witty and erudite correspondent and the receipt of one of those little cream-coloured envelopes with the Cornwall-on-the-Hudson address were to me an event that gladdened the worst of days.
Much of our early correspondence had to do with the research and writing of Amateurs to Arms!, Colonel John's book on the War of 1812, a work that I admire although I do not agree with everything the author has to say about that conflict. As Colonel John states in its pages, we "wargamed" the Niagara campaign of 1814 -- what he meant was that we worked through, over a period of about eighteen months, the operational and tactical events of that campaign in a series of letters. In return, John Elting rendered me valuable assistance. He cast a beady and critical eye over the drafts of all my War of 1812 books and saved me from many terrible errors. I recall that, at one point, while writing my Lundy's Lane study, I had gotten lost in the trees and managed to place the main British infantry line in front of their own artillery, a deployment that would have been very embarassing if it had escaped into print -- thankfully he caught it and pointed out the error of my ways.
On one particular subject, I regarded Colonel John as an indispensable source and that was regarding everything to do with the military horse. Sometime, very early in his military career, he served in a horse-drawn battery of artillery and was a fund of practical information, not easily available to a modern author, on the management of this grain-fuelled prime mover of the Napoleonic period. While writing Field of Glory, my study of the 1813 Crysler's Farm campaign, I called him in desperation one night with a problem: "John, I have to get 700 horses over the St. Lawrence River, how did they do it?" We worked out a very probable answer, based on such historical evidence as I had and Colonel John's own memories of a river-crossing exercise undertaken in dust-bowl Kansas in the mid-1930s. That kind of rare but extremely useful expertise is unfortunately now lost to us.
As an author, Colonel John had a colourful style that makes his books a delight to read -- consider the opening line of Amateurs to Arms!: "The United States swaggered into the War of 1812 like a Kansas farm boy entering his first saloon." This is absolutely true but only John Elting would have the courage to put it into print. Consider also his comments on Brigadier General John Chandler who "nobody except Madison and Dearborn believed ... bright enought to take care of his natural functions without assistance." Again, absolutely true but only Colonel John would boldly go where most historians (including me) would fear to tread. Another aspect of Colonel John's books (an outgrowth of the man himself) was his uncanny ability to spot a personal quirk in historical figures that makes them more believable, engaging, and interesting to the reader. My favourite example of this type is the French general in Swords around a Throne who ordered his troops to present arms and salute his favourite vinyard every time he had occasion to pass it on the march.
Sadly, this fine man and historian is no longer with us. For my part, I will be dedicating one of my future books to Colonel John and that dedication will read: "Colonel John Elting, United States Army, 1911-2000 -- Old Army, Old School, Old Breed -- and there are damned few left."
Donald E. Graves
Canada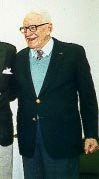 Oberst Rob Hamper
Prussian Army
Napoleonic Wargaming Club